INTERNAL CLUB COMPETITIONS 2019
MEN'S & LADIES TRIPLES MIXED TRIPLES
6TH JULY QUARTER FINALS
3RD AUGUST SEMI FINALS 20TH JULY QUARTER FINALS
10TH AUGUST SEMI FINALS
PRESENTATION EVENING 2018
The presentations were announced by Jim freeman. organised by Dereck Pickering and awarded by Steven Brice (Club President)
ONE OFF COMPETITIONS
CLIFF HEWLETT TROPHY
Winners Margaret & Peter Gilliam Mike Griggs Runners Up Marguerite Noyce Dereck Pickering Jan Puttock
RUBY DAY
Winner Jan Le Page Runner Up Joyce Hopgood
GRETA 2 WOOD PAIRS
Winners Lynda & Guy Bennett Runners Up Chris Marsdon Keith Sinclair
SHORT MAT LEAGUES
Tuesday Winners Jim Coy Jill Holgate Jan Le Page David King
Wednesday Winners Margaret Gilliam Gwen Hewlett Jill Holgate Ken Nutbeam
Tuesday Runners Up Joyce Hopgood Rosemary Hunter Ken Nutbeam Barbara Willsher
Wednesday Runners Up Beryl Ashman Mairi Aston Jim Freeman Joyce Hopgood
CLUB COMPETITIONS
TRIPLES
Winners Men's Graham Laird Jim Freeman Mike Hailey Ladies Brenda McGavin Marguerite Noyce JanPuttock
Mixed Ken Attridge Liz Miles Keith Sinclair
Runners Up Men's Brian Horne David Harvey Dereck Pickering Ladies Mairi Aston Margaret Gilliam Carol White
Mixed Marjorie Kirton Marguerite Noyce Mike Way
PAIRS
Winners Men's Mike Hailey Dereck Pickering Ladies Brenda Macgavin Joyce Hopgood Mixed Margaret Gilliam Clive Hassall
Runners Up Men's Clive HassalL Mick Hunt Ladies Gwen Hewlett Rosemary Hunter Mixed Carol White David Nash
GREEN TROPHY (BRIAN ARNOLD)
Winner Jan le Page Runner UpKeith Sinclair
CLUB CHAMPIONS AND RUNNERS UP
Lady Champion Margaret Runner Up Mairi Aston
Gentleman Champion Clive Hassall Runner Up Graham Laird
CLUB COMPETITIONS WEEKEND 2018
CLUB CHAMPIONS 2018
Finals Winners in BOLD
Ladies Championship Mairi Aston V Margaret Gilliam
Ladies Pairs Rosemary Hunter & Gwen Hewlett V Brenda McGavin & Joyce Hopgood
Ladies Triples Margaret Gilliam, Mairi Aston, Carol White V Jan Puttock, Brenda McGavin, Marguerite Noyce
Men's Championship Clive Hassall V Graham Laird
Men's Pairs Clive Hassall & Mick Hunt V Mike Hailey & Dereck Pickering
Men's Triples Jim Freeman, Mike Hailey, Graham Laird V Brian Horne, David Harvey, Dereck Pickering
Mixed Pairs David Nash & Carol White V Clive Hassall & Margaret Gilliam
Mixed Triples Liz Miles, Ken Attridge, Keith Sinclair V Marge Kirton, Mike Way, Marguerite Noyce
Brian Arnold Keith Sinclair V Jan Le Page
PRESIDENT'S DAY 18TH AUGUST 2018
A large number of members, both playing and non playing, gathered to raise funds for the President's Charity. This year he is supporting Southampton Children's Hospital Emergency and Trauma Appeal and £225 was the amount raised.
30 players took part in three 4 end games, 2 of which took on a stick scoring format, which was enjoyed by all. The overall winner was Brian Kirton with 35 points and Bob Short was the runner up with 34 points. Brian was presented with his prize by Graham Laird, the organiser.
The spectators enjoyed coffee and cakes and then lunch was enjoyed by all at the end of the games. Jan Puttock and her team served bacon butties and hot dogs together with a range of cakes.
A large raflle added to the proceeds and the President thanked all who had helped to make theday such a success.
17th July 2018
12 ladies played in the Annual Ruby Day competition. After 3 rounds of 6 ends Jan Le Page was declared the winner with Joyce Hopgood as runner up. After a sharing lunch the ladies played a Spider, this was won by Lynda Bennett. Sheila Chimes ran the Raffle. Jill Holgate was thanked for running such a successful day, together with all those who helped behind the scenes with refreshments and clearing up.
5th July 2018
Eight Triples teams played in the Cliff Hewlett Memorial competition. After 3 rounds the team of Margaret & Peter Gilliam and Mike Griggs met Jan Puttock, Dereck Pickering and Marguerite Noyce in the Final. After 6 ends the team of Margaret ,Peter and Mike won.
All who took part enjoyed a sharing lunch and £77 was raised for the President's Charity. Thanks are due to Dereck, Mandy and all who helped to make this a successful occasion.
June 8th 2108
Congratulations to Lynda and Guy Bennett who won the Ladies Invitation 2 Wood event. They beat Chris Marston and Keith Sinclair in a 12 end final. They were presented with the Greta trophy by the Club President Steven Brice. The 24 club members who took part had an enjoyable time and enjoyed coffee, lunch and tea throughout the day. Special thanks to Shirley and Dave Lawrence who kept the scores and rang the bell, to Jenny and Natasha and others who helped in the kitchen and to Mandy who sorted out the documentation for the day.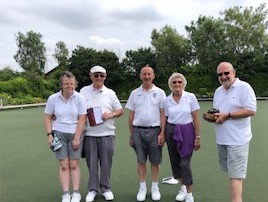 © Copyright Totton and Eling Bowls Club