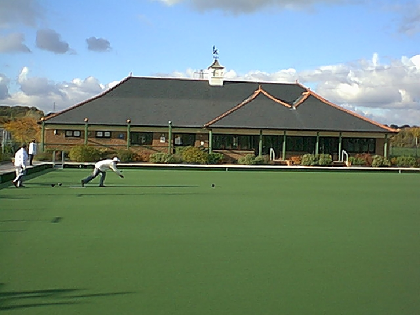 The Bowls Pavilion
Crabbs Way, West Totton. S040 8FA
Beginners and experienced bowlers welcome. You can either take out an annual membership or pay and play. See Membership page for Times and details
FROM MONDAY 17TH JANUARY 2022
To all our members who come to roll-ups on Monday, Wednesday and Friday mornings.
We have had some frosty mornings recently when it has not been possible to play bowls safely until later in the morning, often around 11.00am, and even then not all of the green has been playable. Even if the temperature rises above 0 degrees by 9.00am the green is unlikely to be clear by 10.00am. I have been talking with Mandy who has expressed to me her concern about members arriving well before 10.00am when clearly no play was possible for some time. I appreciate that some of you like to gather for tea and a chat but we have been discouraging this in view of the continued risk of Covid infections. Therefore, the GPC has decided, in consultation with Mandy, that weekday roll-ups will not start until 11.00am during the rest of January and in February. This decision has not been taken lightly. The health and safety of all of us is paramount.
Les will open up at a time that he decides in order to prepare for play but please do not arrive until 10.45, which should give sufficient time to start play at 11.00 (assuming, of course, that weather conditions permit play at that time). If play is not possible by 11.00, indoor short mat is always available. Also, don't forget that on these three days (and also Tuesdays) the Centre is open until 3.00pm enabling you to play later in the day.
A reminder to all members of some important points in Mandy's email on 30th December
Covid is still around and several members have recently tested positive and displayed symptoms. "We request that you wear a face mask when using all areas inside of the Pavilion, whether that be going to the toilet, using the changing rooms or coming to speak to a member of staff in the office. Can we also ask that you are mindful of keeping your distance from others in order to reduce the risk of unknowingly passing anything on to each other. Face masks do not need to be worn whilst playing short mat or when having refreshments but please be aware of others around you.
Only TWO people are permitted in the kitchen at any one time to make their drink or drinks for others. Please sanitise your hands before entering the kitchen and wear a mask."
The carpet and tables in the clubroom have not always been swept and cleaned after refreshments, so please can remember the need to ensure that this happens, which is in all our interests.
OMICRON IS OUT THERE, IT MAY NOT MAKE YOU AS SERIOUSLY ILL AS OTHER VARIANTS BUT WE ARE ALL VULNERABLE, SOME MORE THAN OTHERS SO LET'S DO OUR BEST TO KEEP EACH OTHER AS SAFE AS WE POSSIBLE CAN AND HAVE A HAPPY NEW YEAR.
**************************************************************************************************************************************************
OPENING TIMES
2021-2022 OFFICE HOURS
22ND NOVEMBER - 28TH FEBRUARY
Monday, Tuesday, Wednesday & Friday 12pm - 3pm
Thursday & Saturday 11am - 2pm
Sunday CLOSED
MARCH 2022
Monday to Friday 11.00am to 3.00pm
Saturday 9.45am to 1.45pm
Sunday CLOSED
******************************************************************************************************************************************************************
SHIRLEY LAWRENCE
We have received some sad news from Dave Lawrence. Shirley died at home on Monday 3rd January.. Our thoughts are with Dave and his family. Shirley's funeral will be held at Test Valley crematorium on Tuesday 1st February at 1.45pm. Dave has requested no black ties. Afterwards at the Vine Inn, Ower.

++++++++++++++++++++++++++++++++++++++++++++++++++++++++++++++++++++++++++++++++++++++++++++++++++++++++++++++++++
To see the photographs from the Club Presentation Dinner follow the links to COMPETITIONS
and NEWS
The CLEANING ROTA until May 2022 may be found by following the link
******************************************************************************************************************************************************************
CHRISTMAS FAYRE SATURDAY 27th NOVEMBER 2021
WE ARE PLEASED TO ANNOUNCE THAT OVER £900WAS RAISED
THANK TO ALLWHO CONTRIBUTED TO, HELPED AT AND ATTENDED THIS EVENT
********************************************************************************************************************************************
PRESIDENT'S LETTER
President's Newsletter for SEPTEMBER please follow link above
***********************************************************************************************************************************************************************
WHAT'S ON
ROLLUPS EVERY MONDAY, WEDNESDAY , FRIDAY AND SATURDAY (ARRIVE BY 10.45AM)
TUESDAY 11TH JANUARY SECOND SHORT MAT LEAGUE STARTS FOR DETAILS FOLLOW LINK TO SHORT MAT
TUESDAY 1ST FEBRUARY 1.45PM FUNERAL OF SHIRLEY LAWRENCE
THURSDAY 3RD & 10TH MARCH FINAL AUSSIE PAIRS MATCHES
© Copyright Totton and Eling Bowls Club