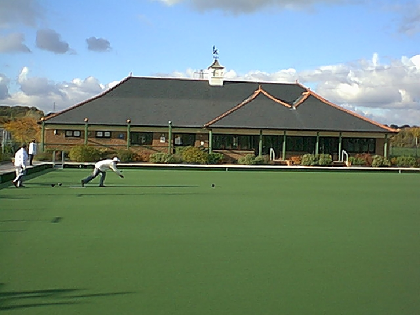 The Bowls Pavilion
Crabbs Way, West Totton. S040 8FA
SCHOOL HOLIDAY OFFER
ON STAYCATION?
PLAY BOWLS - A GAME FOR ALL THE FAMILY
AGES 8-17 50p ACCOMPANYING ADULT £1.50 per hour
BOWLS AND SHOES WILL BE PROVDED FREE OF CHARGE
In accordance with government guidelines, prebooking is essential.
PLEASE CALL 02380868846
Beginners and experienced bowlers welcome. You can either take out an annual membership or pay and play. See Membership page for Times and Fees
***************************************************************************************************************************************************
OPENING TIMES
APRIL TO SEPTEMBER 2021
MONDAY TO FRIDAY Office Hours 10am to 2.30pm
Playing start times 10am – 11am – 12noon – 1pm
SATURDAY Office Hours 10am to 1.30pm
Playing start times 10am – 11am – 12noon
SUNDAY CLOSED
Week commencing 12th July Les is going to organise the Monday,Wednesday and Friday morning rollups the "THE OLD FASHIONED WAY" but with a slight difference. Please arrive 9.45am to sign in. You will no longer need to pre book with the office in advance. However, you will need to report in to Les upon arrival. You must go to Les he will not be chasing after you! He will sign you in and issue you with a PLASTIC disc showing you your rink and team for the day. You will need to be patient and do this this in orderly manner.
PLEASE NOTE THERE WILL NOT BE A ROLL UP ON FRIDAY 16TH JULY AS THERE IS AN ALLDAY COMPETITION - LADIES INVITATION DAY
Due to Covid -19 Pre booking is required for other days and times.
We are slowly coming out of lockdown and we are eager to be bowling again. However, the virus is still out there and there are still some not complying with the guidelines.
You are required to wear a face covering when arriving at the centre, within the building and where you are in close proximity of others.
Please sanitise your hands on arrival and as regularly as possible during the time you're a playing. Where possible DO NOT share equipment, but if you do please practice good hygiene. Sanitise Equipment before and after use.
Do not handle equipment being used by others. And sanitise before/after use. When there is a need to mark a toucher you must use SPRAY CHALK.
We will notify you when guidelines change
THE VIRUS IS STILL ABOUT AND IS NOT GOING TO DISAPPEAR ON THE 19TH JULY
Please phone or email to book a rink within office hours above
A BIG THANK YOU
President Steven presenting retiring Club Secretary Jan with an engraved vase. This was to mark many years of service to the Club as Secretary and also her work with the Ladies section and with catering for many events.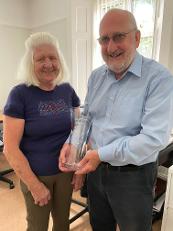 NEW FOREST MENS' LEAGUE DIVISION 2 WEEK 10

P W L T F A Diff Pts
Totton & Eling 9 6 3 0 652 552 100 45.5
Highcliffe 8 6 2 0 585 514 71 45
Milford 9 6 3 0 662 568 94 43
New Milton B 8 5 3 0 590 502 88 39
Brockenhurst 8 3 5 0 527 499 28 31
Downton 9 2 6 1 405 532 -127 22.5
Braeside A 9 1 7 1 424 678 -254 14
Well done to the Team - Top of the League!
LADIES RUBY DAY
Ruby Daywas an enjoyable occasion. 12 ladies played and there were 3 spectators and 4 helpers. Carol and Jackie tied on 5 points and Carol won the shield on points difference. Sheila O won the spider. Thanks to Jill for organising the day and Barbara for organising the catering(recovering well after Morrison's let her down with a non delivery of sandwiches). The Big Blue Café made fresh well filled sandwiches at one hour's notice. Nina served the teas and coffees and we are grateful to her for this. The raffle had many prizes and together with the Spider fees made £80 for the Club Charity.
CONGRATULATIONS TO
Mike and Clive for progressing in the NFBA competitions to the round of 16.
Mike in the Officers Cup and Singles
Clive in the Champion of Champions and the Triples( with his team, Mike & Graham L)
PRESIDENT VERSUS CAPTAIN TRIPLES COMPETITION
On a glorious sunny morning 5 rinks contested the competition. The President's Team triumphed by 4 rinks to 1. Rink 1 was the overall winning rink. It was good to see spectators able to join us.The event ended over butties and drinks in the club room, and the time to sit together and chat was enjoyed by everyone.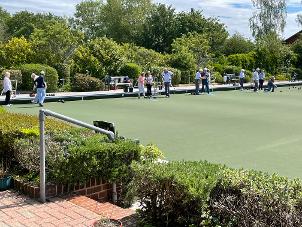 On Saturday 29th May we were delighted to welcome 16 people to try out bowls. They were assisted by 13 club members and the office receptionist and a good time was had by all in lovely weather, we hope they will return and join us in the future,
FROM 17TH MAY
Bowls - relaxation of some restrictions from Monday 17th May. Return to Play: Step 3
Information taken from the Bowls England (BE) website published on 10th May, and adapted for Totton & Eling BC.
The two main points in the introduction to a lot of detail are:
All restrictions on formats and numbers for organised activity under the jurisdiction of Bowls England will be removed.
Car sharing, spectators and indoor hospitality will be permitted.
What does this mean for our members at Totton & Eling?
Masks must continue to be worn and hands sanitised when entering the building. Masks can be removed on the green and its surrounds. 30 bowlers can play at any one time.
BE advise players to continue to avoid using shared equipment whenever possible and to use your own mat/jack during any session. However, as most of us are sharing equipment, for example jacks/mats/pushers, we must continue to practise strict hand hygiene including sanitisation before and after using any shared equipment (and during use if desired). Should measuring be necessary, players (or marker if used) must use their own measure. You should NOT handle woods other than your own.
Scorecards, when required, to be used by one person only. Chalk is spray chalk only. Scoreboards are optional, and the GPC has agreed that they can be used in competitions and NF League fixtures provided that all hygiene and sanitation guidance is observed.
Spectators are allowed but must adhere to social distancing rules.
Car sharing is permitted at the discretion of individual drivers and passengers. Our advice is, if car sharing, wear a mask and ensure a good flow of air from outside.
Changing room use remains unchanged – one person only at a time and to be used only for collection and return of kit. You must continue to change shoes outside.
The bar can be open for drinks after League matches but it is table service only. The way that this will operate will be explained to players before the start of each match. The kitchen will remain closed, but can open after play on Monday and Friday mornings if one or two members are prepared to accept responsibility for being in the kitchen and ensuring full hygiene compliance – details available from Mandy. A lady member will open the kitchen in a Covid secure way after play on Tuesday mornings.
If there is any further information published before 17th May we will let you know. At Step 4 (Monday 21 June at the earliest), BE expect all restrictions to be lifted and will update its guidance once the government has confirmed the country is moving to Step 4 (a decision is expected on Monday 14 June).
Steven Brice, on behalf of the GPC, 13th May 2021.
************************************************************************************************************************************************************************
CLEANING ROTA RECOMMENCES 16TH MAY
The rota is available by following the link above to CLEANING ROTA
A BIG THANK YOU TO
the following members who spent a good few hours on Thursday 29th April repainting the two shelters, the wood along the path at the entrance to the club and the bowls pushers that had started to deteriorate due to continues wiping with sanitisers. These were Keith S, Tony S, Malcolm C, Rod S and the organiser Colin.
*****************************************************************************************************************************************************************
Now that we have progressed into step 2 of Covid 19 restrictions. The main Ladies and Gents Toilets can now be used. However, the main doors will be wedged open for ease of access and it is only permitted for use ONE PERSON AT A TIME. Please call out before entering to check the coast is clear.
PLEASE WEAR A MASK/FACE COVERING WHEN COMING INTO THE BUILDING TO USE THE TOILET and FOR ANY OTHER REASON.
USE HAND SANITISER PROVIDED BEFORE AND AFTER USING THE TOILET
HELP KEEP EACH OTHER SAFE AND THE CENTRE OPEN. Thank you for your co operation
********************************************************************************************************************************************************************
President's Newsletter please follow link to PRESIDENT'S LETTER
***********************************************************************************************************************************************************************
WHAT'S ON
WEDNESDAY SUMMER LEAGUE AT 6.15PM
ROLLUPS EVERY MONDAY, WENESDAY AND FRIDAY (ARRIVE BY 9.45AM)
24TH JULY MIXED TRIPLES SEMI FINAL
16TH JULY LADIES INVITATION DAY AT 10.00AM
WEDNESDAY 1TH AUGUST CLIFF HEWLETT COMPETITION
WEDNESDAY 8TH SEPTEMBER FRIENDLY MATCH V PARKSUDE AT HOME
SUNDAY 7TH NOVEMBER NFBA PRESENTATION LUNCH AT SOUTH LAWN HOTEL
© Copyright Totton and Eling Bowls Club