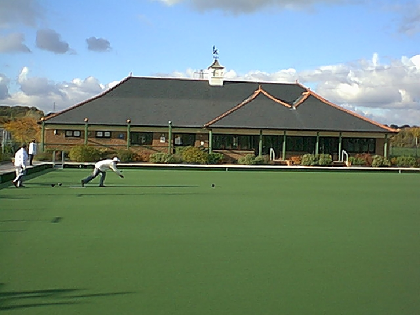 The Bowls Pavilion
Crabbs Way, West Totton. S040 8FA
Beginners and experienced bowlers welcome. You can either take out an annual membership or pay and play. See Membership page for Times and
OPENING TIMES
2021-2022 OFFICE HOURS
1ST APRIL - 30TH SEPTEMBER
Monday to Friday 10.00am to 3.00pm
Saturday 9.45am to 1.45pm
Sunday CLOSED
OCTOBER
Monday to Friday 11.00am to 3.00pm
Saturday 9.45am to 1.45pm
Sunday CLOSED
1ST NOVEMBER - 28TH FEBRUARY
Monday to Saturday 11.00am to 2.00pm
Sunday CLOSED
MARCH
Monday to Friday 11.00am to 3.00pm
Saturday 9.45am to 1.45pm
Sunday CLOSED
*******************************************************************************************************************************************************************
CLUB FINALS
WINNERS IN BOLD
LADIES TRIPLES
GILL BROWN JENNY KING
SHEILA OXFORD V MARGUERITE NOYCE
MARGARET GILLIAM PAULINE CHRISMAS
MENS TRIPLES
PETER GILLIAM TONY STOCKER
DAVE BIGNELL V DAVID HARVEY
MIKE WAY COLIN HONEY
MIXED TRIPLES
MAIRI ASTON MARGARET GILLIAM
COLIN HONEY V LYNDA BENNETT
MIKE WAY MIKE HAILEY
MENS PAIRS
MIKE WAY V GRAHAM LAIRD
CLIVE HASSALL DAVE BIGNELL
LADIES PAIRS
MARGARET GILLIAM LYNDA BENNETT
LIZ MILES V MARGUERITE NOYCE
GREEN TROPHY
MARK JARVIS V ROSEMARY HUNTER Marker: GUY BENNETT
MIXED PAIRS
CLIVE HASSALL V MIKE WAY
JENNY KING GILL BROWN
LADIES CHAMPIONSHIP SINGLES
MARGARET GILLIAM V LYNDA BENNETT Marker: SHEILA OXFORD
MENS CHAMPIONSHIP SINGLES
MIKE WAY V CLIVE HASSALL Marker: MARK JARVIS
******************************************************************************************************************************************************************
COVID UPDATE JULY
We can now re-open the kitchen. Masks should be worn in the kitchen. Mugs to be placed in tray for dishwasher, No more than TWO people at any one time in the kitchen and please spray the work surfaces after use with the sanitiser provided and wipe down with a clean paper towel. However, this arrangement will be only for AFTER matches and roll-ups. If all goes well then we can open up further so that you can gather for tea and a chat before playing.
We are no longer sanitising mats and pushers. New mats have been brought into use. After a game, please continue to place jacks in the buckets provided.
Bowls England ask that we remain vigilant and continue to sanitise our hands on entry to the Centre, wear our masks when inside the building and maintain the usual social distancing - all out of respect for our fellow members. Also, it is still only one person at a time in each changing room and please do your best to not spend any more time in there beyond collecting and returning any shoes, clothes or kit.
Thank you for your support and cooperation. Steven Brice - Club President
*******************************************************************************************************************************************************************
WINTER INTERNAL LEAGUE
There will be a winter league to be run on the same lines as the summer league. It will be on a Thursday morning, hopefully to begin on 14th October 11 o'clock start. It will be run under aussie pairs rules, 14 ends change half way through 7 ends. Teams will be squads of 3 or 4 so you will not be playing every week, you are responsible to find a member of your squad if you cannot play. If weather is bad these fixtures will be played at a later date. It is open to all members and we hope many winter members will join in. The list will be on the board, so put your name on it if you want to play
*****************************************************************************************************************************************************************A
PRESIDENT'S LETTER
President's Newsletter for SEPTEMBER please follow link to PRESIDENT'S LETTER
***********************************************************************************************************************************************************************
WHAT'S ON
ROLLUPS EVERY MONDAY, WEDNESDAY AND FRIDAY (ARRIVE BY 9.45AM)
MONDAY 27TH SEPTEMBER SHORT MAT DRAW 12.30PM
MONDAY 4TH OCTOBER S&DBA PRESENTATION DINNER AT PIRRIE PARK 6.30 FOR 7.00PM BOOK BY 15TH SEPTEMBER
SUNDAY 10TH OCTOBER FRIENDLY V BRAESIDE HOME
THURSDAY 14TH OCTOBER AT 11.00AM - START OF WINTER INTERNAL LEAGUE
WEDNESDAY 20TH OCTOBER NFWBA PRESENTATION LUNCHEON BOOK BY 23RD SEPTEMBER
FIRDAY 22ND OCTOBER S&DWBA PRESENTATION LUNCH BOOK BY 14TH SEPTEMBER
SUNDAY 24TH OCTOBER BH PRESENTATION LUNCH BOOK BY 10TH SEPTEMBER
SATURDAY 30TH OCTOBER CLUB PRESENTATION DINNER Sign up on noticeboard
WEDNESDAY 3RD NOVEMBER START OF CARPET LEAGUE
FRIDAY 5TH NOVEMBER CLUB EGM FOLLOWED BY CLUB AGM 2.00PM
SUNDAY 7TH NOVEMBER NFBA PRESENTATION LUNCH AT SOUTH LAWN HOTEL BOOK BY 24TH AUGUST
TUESDAY 8TH NOVEMBER LADIES AGM 9.30AM
21ST NOVEMBER FRIENDLY V PALMERSTON AWAY
27TH NOVEMBER CHRISTMAS FAYRE
10TH DECEMBER CHRISTMAS DRAW 12.30PM
11TH DECEMBER CHRISTMAS CLEBRATION
© Copyright Totton and Eling Bowls Club