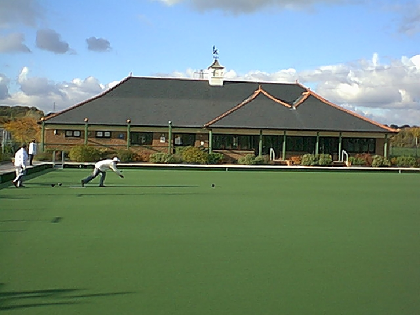 The Bowls Pavilion
Crabbs Way, West Totton. S040 8FA
Beginners and experienced bowlers welcome. You can either take out an annual membership or pay and play. See Membership page for Times and Fees
UPDATE FOR ALL BOWLERS 3RD JULY
It is great to see lots of you returning to play the sport you love and meet up with friends.
However, we are still only able to use alternate rinks 1,3,5 and 7. So as you can image they are getting booked up quickly. I know most of you like to play in the mornings but unfortunately it is getting increasingly more difficult to fit you all in. Next week for example all the rinks are booked until at least 12 noon. Can I therefore ask you to consider varying the times you play and arrange some games for the afternoons to give everyone a chance. For playing pairs 1 hour is not enough so we are allowing two hour slots.
Hopefully it won't be long and the club will have some competition games in place which will make it more interesting.
Regrettable although pubs and clubs are now allowed to open the way our club works it is felt that there is too higher risk to open the clubroom for the time being. However if you wish to bring your own flask of tea so you can sit and have a natter after a game (socially distanced 2 metres apart) outside then you are welcome to do so.
Can I ask that you stay aware of those around you to maintain social distancing of 2 metres whilst playing and use the one way system set up at the centre. Come in via the main door and exit via the clubroom emergency exit doors.
Next week there will be an automatic sanitising station installed just outside the office door. Everyone using the centre is required to sanitise their hands on arrival. Thank you for you co operation
Regards Mandy
A GENTLE REMINDER
Please can I remind you all that when using the centre you must follow the safety measures we have put in place which are in accordance with the guidelines from the government and Bowls England.
Firstly can you please follow the one way system set up whether it is quiet or not. The more we do it the more it will become second nature. This is to avoid unnecessary passing in narrow areas.
Access is only permitted to the building for the use of the disabled toilet in emergency and to wash your hands. Sorry no loitering in the clubroom.
Officially all other areas are closed this includes the changing rooms. However, we will allow you access to collect your belongings from your lockers. One person at a time. Please collect your belongings and change outside.
I know this all seems alien to us at the moment but I am afraid we must take these measure to keep everyone safe.
Thank you for your cooperation. Stay Safe. Mandy
To all Bowls Club members
The annual fee to the Council was to have been £175, but on a pro-rata basis this will be £150 if you start to play before 1st June. Payment is by cheque to Totton and Eling Town Council, which must be paid no later than the first day on which you wish to restart playing. This should be brought to the Centre in a clearly marked sealed envelope. There will be a tray in the foyer to leave these and any other correspondence. The Town Council will accept payments online, the details of which are set out below. Annual locker fees of £7.80 can be included in one cheque but must be paid separately if paying by online transfer.
Details for online bank payments are:
Payee: Totton and Eling Town Council
Sort Code: 55-70-05 (Nat West Bank)
Account No.: 75565676
Reference: your initial, surname - BC (eg. J.Smith-BC). It is the same reference for both playing fees and locker fees._
The annual Club fee remains unchanged at £17. Please pay this by cheque to Totton and Eling Bowls Club in a separate clearly marked envelope. For online payments the details are:
Payee: Totton and Eling Bowls Club
Sort Code: 30-98-73 (Lloyds Bank)
Account No.: 01877277
Reference: your initial, surname-club fee (eg. J.Smith-club fee)
Membership renewal forms will be distributed when you visit the Centre for you to complete and return.
However, I appreciate that some of you will not wish to rejoin or play just yet for the obvious reason of risks to your health, and in some cases having to self isolate for 12 weeks in total. You will only pay your playing fees from the first day of the month in which you decide to start playing, ie. all such fees payable to the Town Council will be on a pro rata basis..
With all good wishes, and whatever you are doing, stay safe.
I hope to see you soon. Steven Brice, on behalf of the GPC


Outdoor Carpet Winter League.
The completion of the league has been marked by a small lunch presentation at Totton & Eling BC. This was attended by 7 of our members, 4 from Braeside, 7 from Parkside and 4 from Sixpenny Handley. There was a very good atmosphere, attendees enjoying each others company over a few sandwiches and a cup of tea, Parkside was presented with the trophy, donated by Totton and Eling.
We were well looked after by Jan, Jill and Barbara. Thanks to you all from Steve (President)and Chris (Club Captain)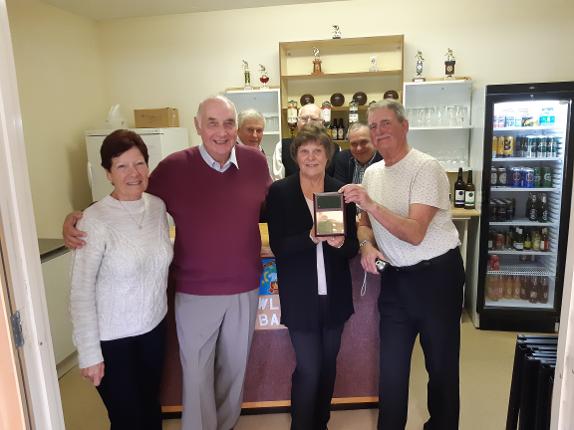 © Copyright Totton and Eling Bowls Club